First, I will ask you, what type of photography are you interested in and what is your budget. If you are just starting and have a low budget, buy the newest camera you can afford with the stock lens (wide angle 18-55mm and telephoto 55-200mm or similar lens).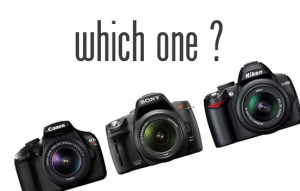 Canon, Nikon, Sony, and Fuji are at the top in technology and will give you more options for equipment to grow.
DSLR or Mirrorless, ? Entry camera (APS Sensor 16x24mm) or Pro (full Frame Sensor 24x36mm)
Invest properly based on your budget. Would you buy a 5-year-old computer? Apply that mentality when buying your camera. You want the newest technology (Mirrorless Camera) better ISO, better screen, newest features, right? In daylight all cameras will produce great images, in low light, the Pro cameras will outperform the Entry cameras.
If you travel a lot, invest in a versatile lens,  18-200mm or 18-300mm or 24-240mm or  similar (great lens at a great price ±$300-$900) this will offer you a wider focal length range (wide-angle and telephoto in one lens). That way you will only carry one lens and won't be missing shots by changing lenses. With time you will be investing in a higher quality lens. A lens with big apertures F1.2, F1.4, F1.8 or F2.8 (they are expensive and worth more than your camera sometimes). LENSES ARE YOUR BEST INVESTMENTS, Once you get to try them, you will see the difference and you will never want to let them go. Cameras will be replaced every 4-6 years, but you can keep using your lenses with your new cameras.
To be a good photographer you do not need to have the most expensive camera or lens, but with time you will want them and will see big differences from the beginner's stock equipment.
Before you buy, read reviews (Amazon great Option) and go to the stores (Costco, Best Buys, Camera Shops) so you can touch them with your hand, feel the camera body, buttons, weight, size, read the features, remember you are buying a camera for 4 – 6 years. Once you decide what to buy. Compare prices on Ebay (find the best sellers), B&HPhoto, Adorama, & Cometa Camera you will save tax in some cases, and usually it's free shipping.
Remember, it is an Indian, not the arrow that kills the enemy. The camera and lens are just tools, you are the one creating the images.
Want to know more about cameras check their History
How old is my Camera? When was it replaced?    What is the latest camera?    What camera should you buy?
Click below to check where your camera stands
DSLR Cameras:
Mirrorles:
Nikon Mirrorles    Sony Mirrorless
Fujifilm Mirrorles    Olympus/Panasonic Mirrorless
You already invested in equipment!      Now invest in knowledge, take my workshops